KAWASAKI, JAPAN, May 18, 2016 — NLT Technologies, Ltd. (NLT, President: Deshu Yu; Head office: Kawasaki, Kanagawa) announces the introduction of seven new wide aspect ratio TFT LCDs for industrial and medical applications.
New development includes new screen size; 10.1-inch, 11.6-inch and 18.5-inch added to NLT's product line-up, with two types of signal interface: LVDS and eDP (embedded Display Port).
Wide aspect ratio is becoming the standard for industrial display applications today. By expanding product line up of the wide aspect ratio, NLT Technologies meets various customers' demands and contributes to broaden the scope of applications with LCD displays.
The prototypes of new LCD modules will be showcased at Display Week 2016, May 24-26 in San Francisco, California, USA, in booth 905.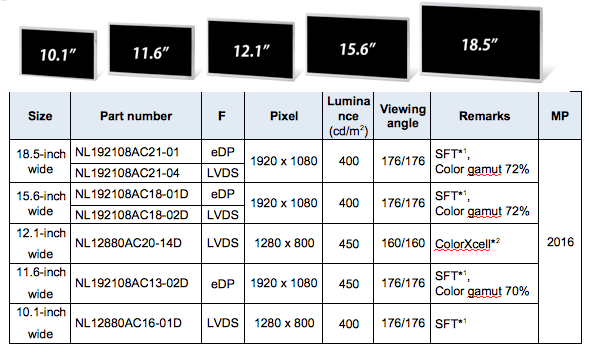 *1: SFT is an abbreviation for NTL's proprietary wide viewing technology "Super Fine TFT".
*2: ColorXcell technology is NLT's proprietary color enhancement technology.